What we know so far
1994 Purchased by the British Army
199? Joined 22-S.A.S
13/01/2000 Cast by the M.O.D. ( wearing it's beige paint job )
06/06/2000 Sold at British Car Auctions Newport Wales
15/06/2019 Joined the collection after 3 previous owners
The bike left the factory painted white with red and blue accessories (photo below) then it was given a coat of military matt green and a khaki seat. The next phase was converting it for use in the desert with the addition of an Acrebis bodywork kit and the first of much beige/sand paint applied probably with a brush on the bits they could reach. Under the seat and airbox sand stains can still be found , judging by the colour from exercises in Oman. During service its military registration was 69-00-KL.
We have known this machine since 2011, only took 8-years of persuasion to acquire it.
The bike had lived outside and damp and lack of maintenance had taken its toll, also handle bars were bent and clutch lever broken due to being dropped.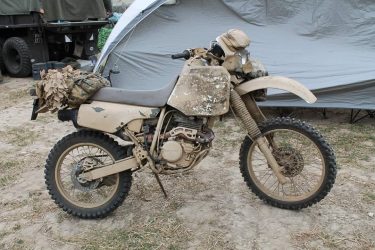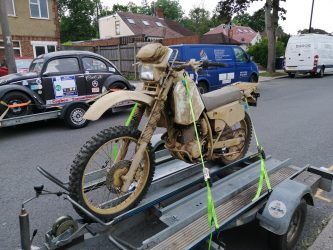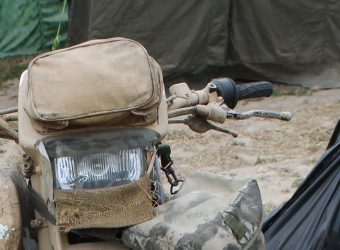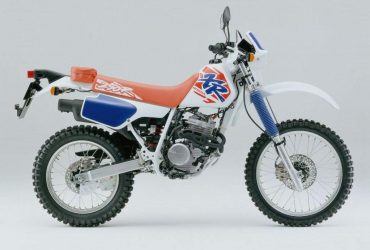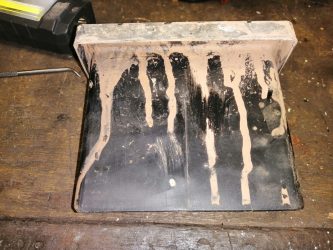 Engine: 249cc Air cooled OHC 4-stroke single
producing 30hp @ 8,000rpm.
Gearbox: 6-speed
Weight: standard civilian spec 108kg
Honda XR250 was originally sold as an off road machine, the version used by British Armed Forces was modified from a European specification machine by Honda dealers in the UK.
To allow it to be used on the road the wiring system was modified to incorporate:
brake lights on the front and rear brakes
headlight fitted with high and low beam
electric horn
ignition switch removed and replaced by an engine kill switch
provision for indicators ( not always fitted ).
A full set of Acrebis plastics were also fitted giving greater clearance on the mudguards a larger fuel tank and brush guards to protect handlebar controls.
Bright red Honda seat replaced with plain khaki version.
As well as a simple rear carrier.
Speedometer is in kilometres showing evidence of the machines European origins.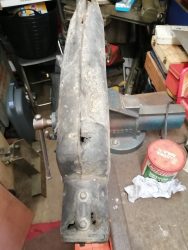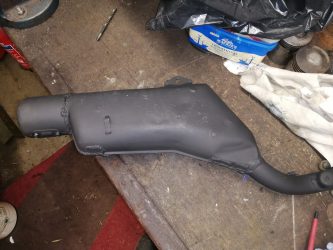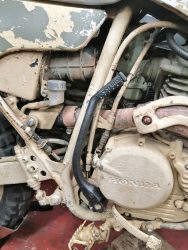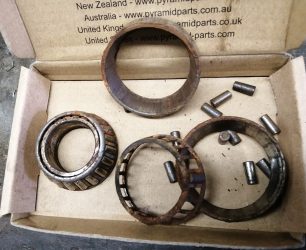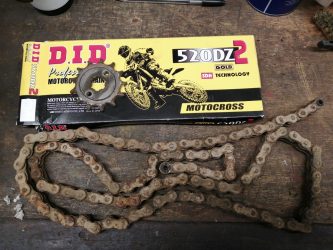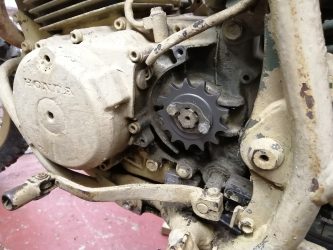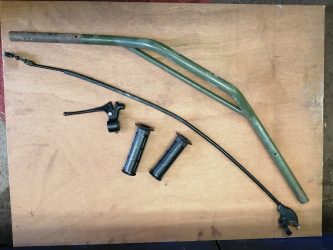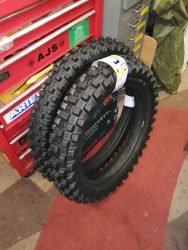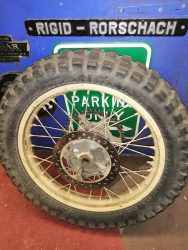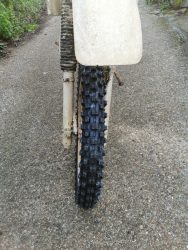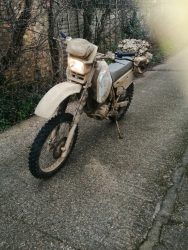 Honda XR in service with British special forces
The bikes usually worked as part of a patrol of 4 Landrovers and 2 motorcycles. The bikes where carried on the rear of the Land rovers and acted as reconnaissance scouts for the patrol.